Hello all!! It's a beautiful Saturday morning here in New Jersey and Pel and I are recovering from our adventure down to DC to have lunch with Stephenie. I thought you all might be interested in the details.
It took us less than four hours to get to DC, which was great because that meant we arrived early and had more time with Steph. We got to her hotel at the book expo before 11 and met her in the lobby. It took me all of two seconds to spot her and give a little squeal. We hugged and kind of took a moment to get over the surreal moment. Now, you have to consider that I talk on the phone with her all the time, so it was a little less dumbfounding for me than it was for Pel, I think. When I first called Steph on the cell to tell her we were early, Pel was like, "I can't believe that was her on the phone!" So we were a little fan girlish for a very brief moment, and then it just felt like we were conversing with an old friend.
She had presents for us, and vice versa. She gave us both an "I love Edward Cullen" t-shirt as well as a copy of the audio version of Twilight. Folks, when she says the shirts run small, she ain't kidding! I have pictures of Pel and me in our shirts. (Now, I'm not the tiniest of people. I'm a big girl and working hard to get smaller, but you'll be able to see in the picture that the shirt is TIGHT and I'm (the blonde) wearing an XXL. Pel (the redhead) is wearing the same size and it looked just right on her. She's about a size or two smaller than me though. So consider this your warning on ordering the shirts. If you are a 14 - 16 expect them to be tight.)
We sat in the hotel room for a while chatting and getting to know each other. Steph is very normal and easy going and so funny. The dry sense of humor you get in Twilight is totally the way she talks. We got lost in conversation so much that we forgot we were on a parking meter, and by the time we got outside we had a parking ticket. Oops.
So then we walked around looking for a good place to eat. There were a few choices and we decided on the Tapas restaurant. WONDERFUL food, awful service. Really. It was like pulling teeth to get my water refilled. We didn't tip her very much. LOL! And wouldn't you believe that when we moved the car to park close to the restaurant, we ended up getting yet ANOTHER parking ticket. This one being twice as expensive. Grrr.....
So we go back to Steph?s hotel and dump all the change we have between the three of us into a meter to give us another hour and a half. We went in her room where she proceeded to tease us with glimpses of the vast amount of information on her lap top. You will see in the picture that she opened the files for both Eclipse and Forever Dawn. SQUEE!! Have fun trying to decipher the text that is visible. Hehehe....
Eventually Steph?s phone rang and she had to get going to do her official author duties. We hugged and said thanks and headed on out. It was around 4 pm, so that gave us nearly five hours of chatting and just having a good time. We talked about anything and everything, from our kids to fanfiction to the publishing business. She is just delightful!
But our story doesn't end there, folks. You see, it took Pel and me nearly EIGHT hours to get home. We had traffic jam after traffic jam after traffic jam. By 8:00 at night, we were still in Maryland!! A distance that should taken us a half hour took us FOUR FREAKING HOURS. It was awful. We didn't get back into New Jersey until after 11 pm. Needless to say, we crashed into our beds.
So as you look over the pictures and possibly feel jealous, consider this?
Eleven hours in a car...
$75 in parking tickets...
$10 worth of really bad Burger King?
Meeting Stephenie Meyer?priceless.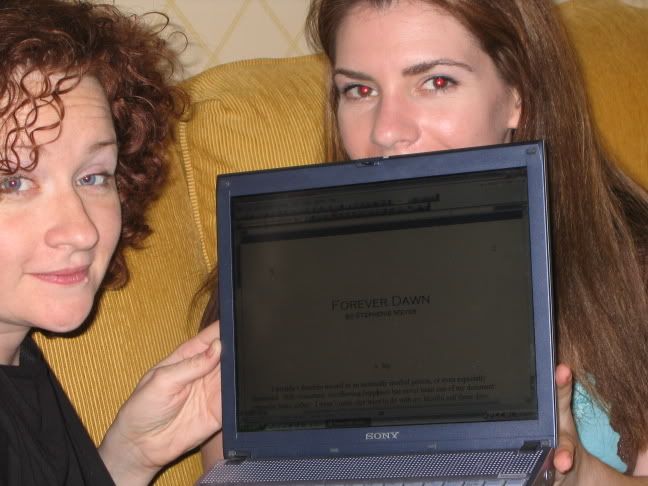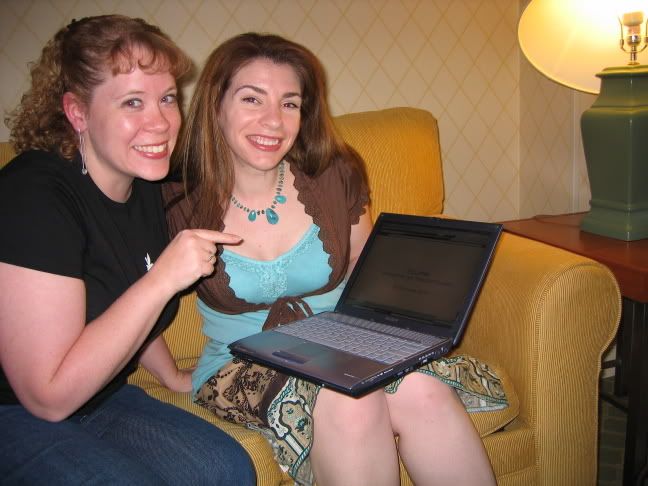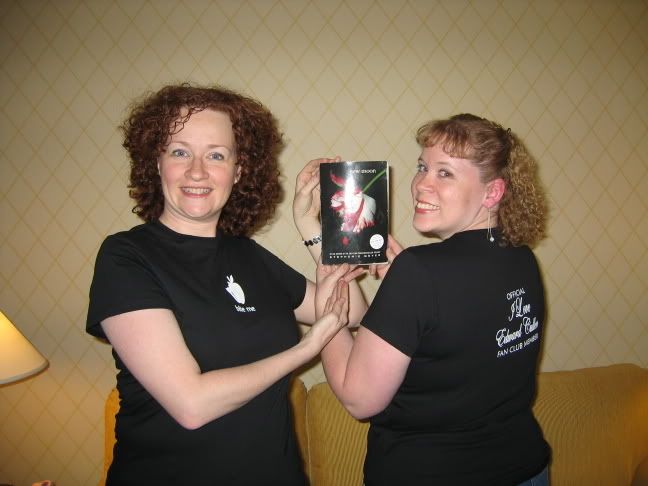 P.S. We just have to add that The Light in the Piazza, Wicked (as I'm sure it will be tonight), and Manhattan are just wonderful.