HOW TO UPLOAD BANNERS AND AVIES
1) PICK YOUR AVIE
We have many beautiful avies here:
Vesperarium
pick one
you like (one that you haven't seen on anyone else) Right click
on the image and save the avie (or banner) to your computer.
(I'm sorry it's in spanish. That should say "save image as")
2) UPLOAD TO PHOTOBUCKET
If you already have an account, then you don't need this. If
you don't, then go to
www.photobucket.com
and create a
new account. It's veeeery easy to register. It's free, it's easy
to use.
Once you complete the registration, log in and click on where
it says "my album"
When you're there, look for the avie that you saved to your
computer and upload it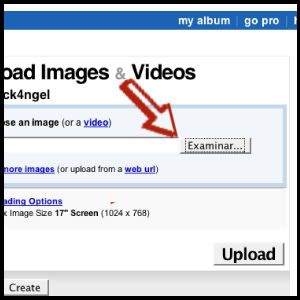 Ok, now click on the url link and copy it
3) UPLOAD IT TO THE LEXICON
Go to your profile
Scroll down to where it says "Link to offsite avatar" (almost
at the very bottom of the page)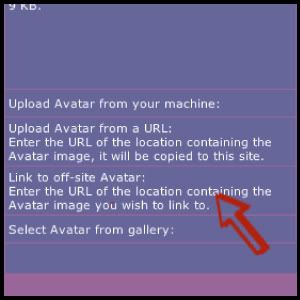 Paste the link in the space there
Click on Submit and you're done!
FOR BANNERS
Copy that: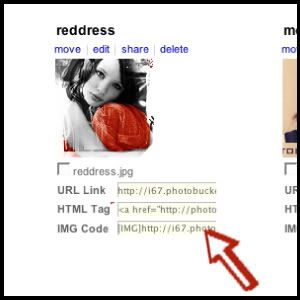 Into the space that says "Signature" in your profile and
you're done! All you really need is to add this:
TA DA! Any questions, re read. And after you've done that
if you still need help don't be afraid to ask.
RULES FOR BANNER AND AVIE USING
1) Pick ONE banner and make sure it's not too big. Alphie wants
us to keep the banners under 460 X 160 (in my screen roughly
less than 3 fingers tall) We need to help with the bandwidth
girls!
2) If you request an avie please give your avie-maker a nice big
pic to work with. Most of us use Henry or Hayden for Edward
and Emily for Bella. If you want someone else, supply the
pics.
3) Don't alter avies made by someone else, it's rude. And if you
do, ask first
4) Don't use an avie that someone else is already using.
Mistakes do happen, but please don't do it on purpose.
Counting Sheep wrote:

Concerning requests:

If anybody does any requests (public or private):

1. Provide the pictures, along with DETAILED enough description of what you want the banner/avatar to look like. Something like, "I want a banner with Edward and Bella on it," is NOT the best way to go.

2. If you want a specific person to answer your request, PM it to them. It's not the best morale booster to other people to see a private request on a public thread.

3. Keep in mind that certain graphics makers use certain actors as Bella, Edward, etc. If they answer a public request that did not detail which actors to use, don't get all mad at them. [This is just a precautionary move, since I haven't seen something like this yet, but hey, you never know what may happen]

4. Once again, BE DETAILED! If known, provide... a) pictures b) text c) style (grunge, vintage, etc.) d) what font/ what style font (curly, plain, distressed, etc.)

***One more note - when providing pictures in a request, it's better to provide larger, better-quality images than tiny, grainy, noisy images. It'll save the graphics makers a whole lot of trouble, plus more stuff can be done with them.

Concerning usage, permission, and crediting:

If you see something on these threads that you would like to use, it's usually polite to ask first, and also usually polite to credit them in your signature. Some graphics makers don't care if you ask them or credit them. So... uhm... just keep that in mind.

***It's best to save the image to your own computer and upload it to an image hosting site (TinyPic, ImageShack, PhotoBucket) instead of using the URL that the graphics maker posted. Piggybacking on somebody else's URL is called hotlinking, which is essentially bandwidth theft. You wouldn't want somebody using your electricity or spending your money while you take the blow, right? It's the same with bandwidth. If a person's bandwidth is exceeded, the images won't show up anymore. So, please, don't hotlink.

Concerning uploading images:

Want to know how to upload an avatar/banner? Please don't ask here; go to the "For the Accident Prone" forum for help.

Here's the specific thread for avatar help:

-link-